Kilimanjaro Travel Information
Join us on a 5 to 10 day exclusive, fully supported and professionally guided climb of Mt Kilimanjaro in Tanzania, Africa. If you're an avid adventurer, Mt Kilimanjaro is one of those adventures that should be ticked off your bucket list.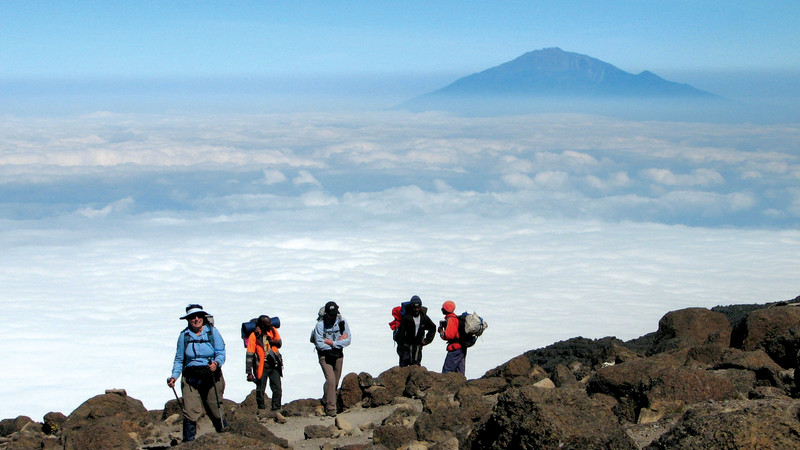 Picture this. You're 5,895 metres high and standing on the 'Roof of Africa'. You're just about to take your final steps onto Uhuru Peak, the summit of the world's highest free-standing mountain — the beautiful majestic Mt Kilimanjaro.
As you reach the summit, the memories, the challenges and tribulations of the past seven days come flooding back and culminating in one euphoric emotion. At that moment, the feeling of achievement and success in reaching your summit goal is almost overwhelming – you feel alive!
For the past seven days, you have experienced many emotions as you battled and pushed through new personal, physical and mental barriers.
Having climbed Mt Kilimanjaro, it is impossible not to be changed by the experience positively – you will go home a new person. You uncovered much more about yourself, your personal strengths, and your limitations on the journey.
Climbing Mt Kilimanjaro is not just about reaching the summit. It is a journey of self-discovery from the day you commit to doing it to the day you return home; the memories and the experience will last a lifetime.
Kilimanjaro Mountain
Crowned by eternal snows, the mighty Kilimanjaro (19,340 ft.) is the highest free-standing mountain in the world and dominates its landscape unlike any other mountain. Located in Tanzania, this dormant volcano looms over five ecosystems and large game reserves, and is certainly one of the world's most impressive sights. The terrain is nothing short of dramatic. As a mountaineering company, we treat this adventure as a mountain climbing expedition. 
Kilimanjaro is unique in many ways, but stands as the only one of the seven summits (the highest points on each continent) that is truly a nontechnical climb. Using well-marked trails to the summit along with our expert guide staff, a fit enthusiast has an excellent chance of reaching the summit. The combination of our expert guides, choice of routes, success and safety has set Top Climbers apart from our peers. We invite you to review the "Why Climb With Us?" section below.
Kilimanjaro is an attractive climb for anyone interested in a physical challenge: climbers, wilderness enthusiasts, and hikers alike. We consider the Kilimanjaro climb and safari expedition to be one of the most appealing and treasured adventure experiences we offer.
Following your climb, we can also take you on a safari to the spectacular game parks of Tanzania, Ngorongoro Crater, The Tarangire River and National Park, and Serengeti National Park. Throughout the safari, we lodge in great hotels and travel by Land Cruiser across the Great Rift Valley, following wildebeests, lions and other indigenous wildlife. More details can be found in our Safari Overview page and on our Itinerary pages.
The world's most accessible high summit
Mt Kilimanjaro is a beacon for visitors worldwide. Most climbers reach the crater rim with little more than a walking stick, proper clothing and determination.
And those who reach Uhuru Point, the actual summit, or Gillman's Point on the lip of the crater, will have earned their climbing certificates.
And their memories.
But there is so much more to Kilimanjaro than her summit. The ascent of the slopes is a virtual climatic world tour from the tropics to the Arctic.
Explore Diverse Geography and Nature
Even before you cross the national park boundary (at the 2,700m contour), the cultivated foot slopes give way to lush montane forest, inhabited by elusive elephants, leopards, buffalo, the endangered Abbot's duiker, and other small antelope and primates.
Higher still lies the moorland zone, where a cover of giant heather is studded with otherworldly giant lobelias. Above 4,000m, a surreal alpine desert supports little life other than a few hardy mosses and lichen.
Then, finally, the last vestigial vegetation gives way to a winter wonderland of ice and snow.
Choose Your Route
With our expeditions, you have the flexibility to select from a variety of routes to suit your budget, preferences and capabilities. Whether you opt for the popular Machame Route, the scenic Lemosho Route, or the challenging Umbwe Route, our experienced guides will ensure a safe and fulfilling journey.
Read more about the different routes here.
Unparalleled Service and Support
As a 5-star rated company with years of experience, we are dedicated to providing you with exceptional service from start to finish. Our friendly and professional team will be there to assist you throughout your Kilimanjaro trekking adventure, ensuring that all your needs and expectations are met.
Great Camping Facilities
Experience the utmost comfort during your trek with our top-of-the-line camping equipment. Our tents are spacious, weather-resistant, and designed to provide a cozy and secure resting place after a challenging day of hiking. We prioritize your comfort and well-being, allowing you to relax and rejuvenate amidst the awe-inspiring landscapes.
High-Quality Equipment
We provide you with the best equipment available to ensure a safe and enjoyable trek. Our camping gear, including sleeping bags and mats, is meticulously maintained and regularly inspected. Additionally, we equip you with appropriate gear for varying weather conditions, ensuring that you are prepared for any situation that may arise.
Delicious and Nutritious Meals
Our experienced camp chefs will prepare delicious and nourishing meals to fuel your body for the demanding trek. You can expect a wide range of dishes made from fresh and locally sourced ingredients. We cater to dietary preferences and requirements, ensuring that you are provided with satisfying meals that accommodate your needs.
Adequate Water Supply
Staying hydrated is crucial for your well-being during the Kilimanjaro trek. We provide an ample supply of clean and safe drinking water throughout the expedition. Our guides and support staff will ensure that you have access to fresh water at all times, helping you stay hydrated and maintain your energy levels.
Health Checks and Altitude Monitoring
Your safety is our utmost priority. Our experienced guides conduct regular health checks to monitor your well-being and ensure a safe ascent. We pay close attention to symptoms of altitude sickness and provide necessary assistance and guidance. With our knowledgeable team by your side, you can focus on the trek, knowing that your health is closely monitored.
Private Toilets
We provide private toilet tents for our clients on all of our climbs. Private toilets consist of a portable plastic toilet and a privacy tent. These will be set up at each campsite. Our staff (a designated "toilet porter") maintains the toilet tent to make sure it is clean and ready for use.
Safety and Evacuation Procedures
All our guides are certified Wilderness First Responders, and their high mountaineering training goes far beyond the normal scope of just this wilderness specific first aid. They are trained to identify and carefully monitor developing high-altitude issues and discuss them with you continuously. They know exactly when to bring you down the mountain, the quickest route to take and when to call for emergency evacuations with chopper/vehicle.
Respect for Our Team
We are nothing without our team of guides and porters. We are members of KPAP, which is a body that ensures well being and fair treatment of all porters on Kilimanjaro. To become a KPAP member, we had to prove over time that we're committed to paying and treating the porters on all of our climbs in accordance with industry best practices.
FAQs about Climbing Kilimanjaro
Mount Kilimanjaro climbing routes